Profile

Free Account
Created on 2017-04-13 00:52:18 (#3056199), last updated 2017-09-10 (1 week ago)
2,910 comments received, 1 comment posted
3,124 Journal Entries, 9 Tags, 0 Memories, 4 Icons

About

Mini Bio
Because people always like to have a face to go with a name, here we are as a first impression: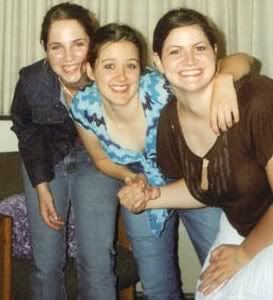 I'm in the middle. Name's Katie. Nice to meet you. The long and short of it is that I'm a writer, a dreamer, an artist, a lover; someone who wants to get everything she can out of life, the bad as well as the good.
I'm also an
INFP
. Other than that, if you want to get to know me, read my journal. That'll give you much more insight into my head and feelings than a simple biography ever could.

made by
sjjtnj
of
hauntedgraphics

Connect
adrenaline
,
art
,
ashton anchors
,
beauty
,
being myself
, being original, beth march,
brownies
,
butterflies
,
caffeine
, caramel coolers,
caribou coffee
,
catholicism
,
cheddar
,
choir
,
clay aiken
,
colors
,
computers
,
courage
,
darkness
,
ddr
,
doodling
,
dragons
,
drawing
,
dreaming
,
elijah wood
,
evanescence
,
expressing myself
,
final fantasy
, finding the perfect icon, finding the perfect layout,
fire
,
fireworks
,
foamy
,
freedom
,
friends
,
friendship
,
frodo
,
frodo baggins
,
fun
,
geekiness
,
homestarrunner
,
hysterical laughter
,
imagination
,
ireland
, jo march,
josh groban
,
junior mints
,
kindness
,
light
,
livejournal
,
lord of the rings
,
love
, managing money,
muses
,
music
,
nanoedmo
,
nanowrimo
,
nanowriye
,
nobuo uematsu
,
novels
, nuklearpower,
originality
,
people-watching
,
piano
,
pippin
,
poetry
,
purity
,
quotes
,
rain
,
random acts of kindness
,
randomosity
,
religion
,
rem
,
roller coasters
,
sadness
,
samwise gamgee
,
singing
,
sketching
,
skiing
,
smiles
,
spirit
,
squirrels
,
squirrely wrath
,
star ocean 2
,
strong bad
,
suikoden
,
sun
,
swimming
, swimming underwater,
talking
,
tennis
,
theodore laurence
,
thunderstorms
,
word wars
,
writing
skyra123

People
[View Entries]

[livejournal.com]
ciaranbenson
,
crazi-keli
,
cryptiquee
,
cyrala
,
dukephysics
,
ebongreen
,
ickypixie
,
kalectotite
,
kiwimouse
,
lugia222
,
mandy8705
,
muddspur
,
my-name-is-go
,
north-of-now
,
of-color-bright
,
raven-211
,
roguejournal
,
shortcake05
,
songbird4eva
,
tasiha
,
tunezjunkie87

[users.livejournal.com]
-spiderling

Communities
[View entries]

Feeds
[View Entries]

Subscriptions (0)

Linking
To link to this user, copy this code:
On Dreamwidth:
Elsewhere: